News
New teammates on our growth journey
3/4/2019 2019 has barely kicked off and we are already welcoming five new members to our growing team. Our offices are staffing up in several of our locations. Germany, Switzerland, Denmark – and even more to come.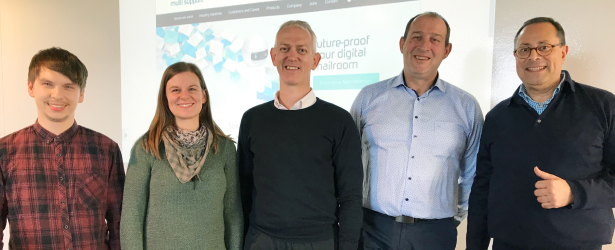 From left to right: Marvin Matzig, Heidi Kristiansen, René Pedersen, Günter Matt and Sundus Rifaat.
Sundus Rifaat (55) joins the German team as Executive Account Manager. An expert in workflow optimization, automation and robotics, who's also a passionate traveler. He flies a plane, rides old- and young timers, and even has his very own military truck. Sundus lives in the Frankfurt area, close to the land of 'Riesling' with his wife and son. No wonder he's also a fan of good wines and fine-dining.
Günter Matt (53) is a new teammate in our Swiss 'büro'. An experienced Executive Account Manager who's fully muscled up with CRM, ERP and workflow skills. A father of four, and a nature-lover who gets on a ride whenever he can — on foot, on skis, or by motorcycle. He'll surely enjoy the beautiful scenery from his new office in Buchs.
Straight from school comes Marvin Matzig (26) to take a seat at his very first work desk at Multi Support Switzerland. As a graduate in Business Administration he's now part of our talented circle of Business Process Consultants. Marvin also rocks at playing. Video games, instruments, and electronic music are all part of his repertoire. At home and at clubs. We can't wait to hear it.
René Pedersen (47) is joining the team of Business Process Consultants to boost our customers' digital transformation. And he'll do that with ease — he's spent the past 20 years building up his resumé with expertise in ERP systems. René is also a true challenger to our mountain-bike enthusiast colleagues. And when he's not on wheels, he travels or spends quality time with his wife and three boys.
With 15 years spent in the world of finance, Heidi Kristiansen (35) is a master of numbers. As our new Finance Assistant, she'll work from our office in Herning. When she's not looking into our bills and timesheets, Heidi enjoys spending time with her husband and two girls. Gymnastics is her preferred choice to stay in shape, and a good book entertains her after a long day.
Join us on our growth journey
Our customers' digital transformation is happening faster than ever. That's why we need more talents on board. In Denmark, Finland, Germany, Norway, Sweden, Switzerland, and the UK — everywhere.
Would you like to join our growth journey? Head over to our career page and see how you could help us shape a successful future. Look around and apply today!