News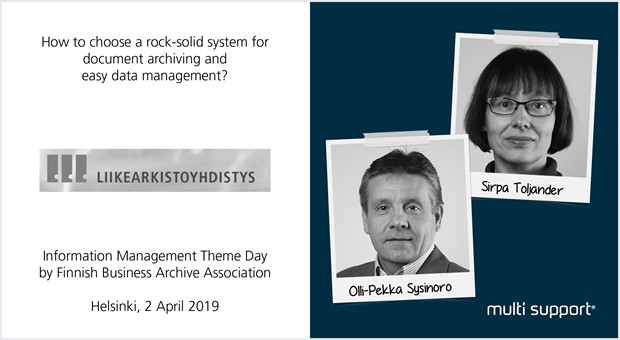 Multi Support presents: Document and workflow management—the easy way
4/1/2019 How to choose the most appropriate system to futureproof data from different document types? Our experts in Finland are about to shed some light on this at the Information Management Theme Day in Helsinki.
Documents come in all shapes and types. Emails, papers, pdfs, contracts, invoices—and much more. Some may contain sensitive data, while others don't. Some are created inside the enterprise, while others come from suppliers, or business partners.
There are many aspects to consider when choosing the best document and workflow management system for your organization's data management needs.
To make the choice easy, Olli-Pekka Sysinoro and Sirpa Toljander will introduce Next® at the Finnish Business Archive Association's Information Management Theme Day.
Learn how 10,000+ professionals around the world use Next® as a unified repository across departments and the entire enterprise.
Curious? Read more about the event, or reach out to our CCO for an online demo:
Henrik Baasch
Chief Commercial Officer
hba@multi-support.com