News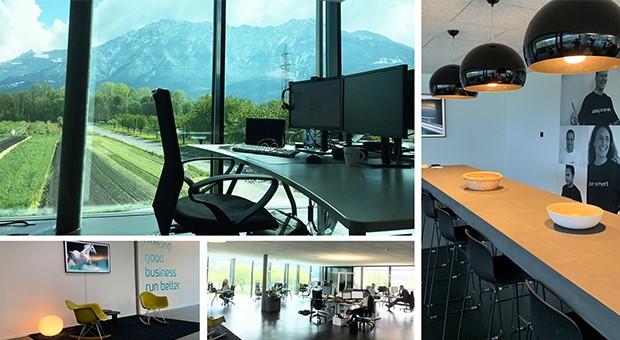 Find our swiss team in a brand new office
6/4/2019 Rapid growth in our customer base means more new colleagues in all our European locations. But in Switzerland, a modern, new office also comes as a bonus. With a stunning view to the snowy mountaintops of Liechtenstein.
This year, we have switched to the highest gear and are rapidly staffing up in all our countries. Including Switzerland, where asset managers, trustees, financial service companies, and manufacturers opt for even more efficient document and workflow automation for their future growth success. Transaction feeding to portfolio management systems and invoice processing – just to name a few.
It's no surprise, that we also have to adapt our space requirements to our staff growth. To continue and create a pleasant working atmosphere. That's why, in Switzerland we moved into a new office in Spring this year. Leaving behind our beloved office for a bigger one. Luckily in the same building, even on the same floor. But much bigger, and already prepared with some spare space for more bright new teammates to come.
On top of that, we simply have the best view: snowy mountaintops across the border in Liechtenstein, and the beautiful Rhine Valley in Switzerland. With such scenery in sight, and working within arms' reach to some of our key customers, we're even more motivated to give every day our best.